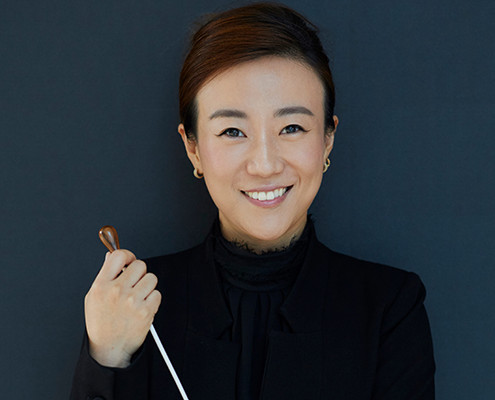 Jing Huan again leads the seasoned players of the GSO along with the young aspiring musicians of the GSYO in celebrating Children's Day with a rendition of the magnificent Pines of Rome. Respighi, known for his gorgeous orchestral colors, provided descriptive titles for the work's four movements, each distinguished by contrasting themes and apt musical depictions of beautiful landscapes. This performance also includes projections of children's paintings, along with live interaction between performers and audience to enhance everyone's artistic experience.
Program
Children's Day Concert
2017. 5.27(Sat.)20:00
2017.5.28 (Sun.)11:00 /15:00
Organizer: Guangzhou Symphony Orchestra, Xinghai Concert Hall
Xinghai Concert Hall
Jing Huan, creative program producer/ conductor
Hsin-lei Chen, visual designer
Liu Rui (Teacher Whozi), guest artist
Rabbit Little White (a fictitious role), narrator
Zu Qing, voice
Guangzhou Symphony Orchestra, Guangzhou Symphony Youth Orchestra

1.Ottorino Respighi
First Movement from Pines of Rome
2.Edvard Grieg
Selections from Peer Gynt Suite No.1
1)Morning Mood
2)Anitra's Dance
3)In the Hall of the Mountain King
3.Leo Delibes
Selections from Coppelia
1)Mazurka
2)Music of the Automata and Waltz
4.Richard Hayman
Pops Hoe-Down
5.Leroy Anderson
The Syncopated Clock
Performers: Chen Yuman, Gan Chenwei, Huang Jichu, Wu Yingtong, Liu Yanxi, Chen Zhiyang, Wu Zuhui, Wen Chengyue, Tang Zixuan (Guangzhou Symphony Youth Orchestra)
6.Jacques Offenbach
Cancan Dance
7.Leroy Anderson
Jazz Pizzicato
8.Pyotr Ilyich Tchaikovsky
Danse russe Trepak from The Nutcracker Suite
9.Josef Strauss
Ohne Sorgen Polka schnell, Op.271
Approx 60 mins without intervals for the Concert.